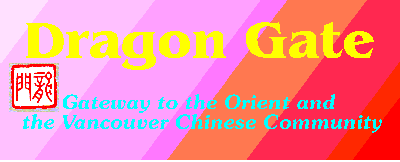 Your guide to Chinese related web sites of the world!

Business Directory - A categorized directory of businesses and companies both inside and outside the Chinese community.
VCCO - Vancouver Chinese Community Online. The Who, What, When, and Where of the Chinese community.
NETural Living - Consumers' guide to shopping, entertainment, and dining around town. A special section will focus on helping new immigrants get aquainted with their "new" homeland.
---
If you have a question or comment please email info@infoserve.net
Home page design and creation copyright &copy Infoserve Technology Ltd.
Chinese seal by world famous calligrapher Professor Chan Feng Gee
You are visitor number: