TrakMate Windows Slot Car Timer
TrakMate produces two Lap Counters a windows version and a Dos version which was initially released in 1997. The Dos version will run on windows 95 and windows 98 or older DOS only computers, and pricing starts at $49 for software and hardware and is recommended for those on a tight budget. Continue down this page for details on the windows version.
TrakMate Lap counters supports Lane Rotation find out what it is and why you need it
Features
Supports Lap and Timed Races and Lane Rotation

Supports up to 60 racers in round robin format

Works with Desk Tops and laptops

Hardware insures accurate timing to .001 seconds even with background applications running or with program minimized

Connects to Com port leaving your printer port free

Sound -"Ready GO", "1 Lap remaining" etc.

Supports 1- 8 Lanes

Relay to control track power

Sorts racers according to position during race

Displays - Lap Times, Best Lap, Median, lag/interval time between racers

Print summary and lap times

Enter racers names only once

Change type of data being displayed by clicking on heading. i.e.. MPH or Best Lap

Timer between heats

Championship mode

Auto pop-up race results

option to add or subtract laps from racer after heat.

Race Results includes average number of laps per heat

Rotation race supports timed and lap heats

Optional warning sounds on count down timer at 1 min, 30 seconds, 10 seconds

Resizing screen is possible

Two styles of count down, drag racing and Formula 1

auto save data to text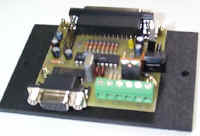 Screen Shots: Click on image for larger picture.
Main screen. Simple interface. Click on name to change name. Click Start to start race.

A checkered flag is displayed when race is over

Settings Screen

Screen shot during race. A Green flag for race, Yellow flag for Paused or track call, White flag for one lap remaining. Checkered flag for race over.

View Summary.
View, Print or Save Summary. It even shows number of crashes and crash percentage (crashes per 100 laps)

You can View, save or print lap times.

Add racers to database

Choose race format:

Lap races
Timed Races
Lane Rotation (version 2)

Count Down before Race. Count down time can be set in options. Gives you time to get ready after clicking the start button

After Count down. A formula style set of lights is displayed on screen. Red, Red, Red, Red, Then All Green to go

Options Settings

Easily select names for each lane

Diagnostic screen for testing sensors
Need a Power Supply? Improve performance of your home track with this power supply
Connect two monitors to the PC with a video splitter so everyone can see the lap times
FAQ
What computer do I need to run this windows version?
Any computer that can run windows 95/98/2000/XP
What's included when I purchase this system?
Software, Interface Board, 10' Cable and sensors, 6' Com Cable to connect interface board to PC, 9vdc Adaptor to power interface board.
How much does it cost?
Check the catalog section for cost and options
What is Lane Rotation ?
See Lane Rotation
I have your DOS version can I upgrade to this version?
Yes, Your existing sensor cable will plug into the new interface board. The interface board sells for $65
Your old relay interface cable will not be required, the relay will be connected to the interface board.
The software displays Median, what is Median?
If you have a Median of 3.52 seconds, it means 50% of your lap times are below 3.52 and 50% are above 3.52 seconds. This is more meaningful then average lap time because if you crash and it takes 20 seconds to retrieve your car it will not distort the median.
How do I display median?
Click on one of the columns headings to change the type of data being displayed
I noticed I can display Lag Behind or Lag First, explain?
Lag Behind displays the amount of time or laps racer is behind the racer that's one position ahead.
Lag First is relative to the racer in first place.
On the DOS program I was able to clear best laps. This was very useful when switching cars in practice, how do you clear best lap in the windows version?
Simply Click on best lap time
How do I connect the relay?
Go to the support section
Can I change the sounds?
Yes, if your a bit of a computer techie you can change the wav files but keep the same name.
What's the maximum number of laps it can do in a race or heat?
3000 laps