Power Supplies

Power Supplies Great for Slot cars
Regulated for a constant clean voltage
Current limited at 10AMPS so even a short won't damage the power supply or blow a fuse
Voltage and Current meters
Multi-turn voltage adjustment knob for accurate adjustment
One year warranty
Ideal for a 4 lane HO or 1/32 scale
Cooler running motors in your slotcar
No more power surges when one car comes off the track
Great low price

| | | | | |
| --- | --- | --- | --- | --- |
| Power Supply | 0 - 30volts | 10amps | voltage & current meters | $123 |
Weight: 8.5KG (19 lbs)
Dimensions: 9"x6"x12"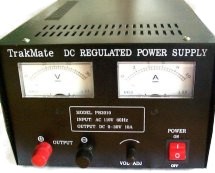 FAQ
Should I put a fuse in for each station?
Not necessary, unlike a car battery should there be a short circuit the Power Supply will limit the current to 10 amps preventing a meltdown.
Is there a wiring diagram?
Go to the support section and look at relay installation. I also answer any questions you may have by email or phone.
Will 10 amps damage my car?
No, the amount of current drawn is determined by the slot car.
I'm presently using a Ninco/Scalextric power track how would I wire the power supply?
Ask for power cables for your power track. Then simply plug it in. Note that the Ninco power base should be taken apart and rewired as the copper traces will break if a short circuit happens on the track, ask for details on this.
What voltage should I set it at?
HO Super Gs usually set around 18 volts, local clubs here have it set at 21volts. Many customers using this power supply for drag racing set it at 30volts and reported a 30% drop in ET times compared to stock power packs. I've personally ran it at 30volts on a Ninco track and got insane speeds out of it, and never damaged or overheated a motor. For 1/32 scale to get the same top speed as a Ninco power pack you will have to set it at around 22 volts.
How much is shipping?
Flat rate of $25usd to anywhere in the USA and Canada shipped via UPS ground
Do you have them in stock?
Yes, and will ship same or next day.